This brief selection of our favourite books will make you laugh, cry and ponder our existence… but isn't that what it's all about?  Curl up with a cuppa and enjoy a meeting of minds, with minds who inspire…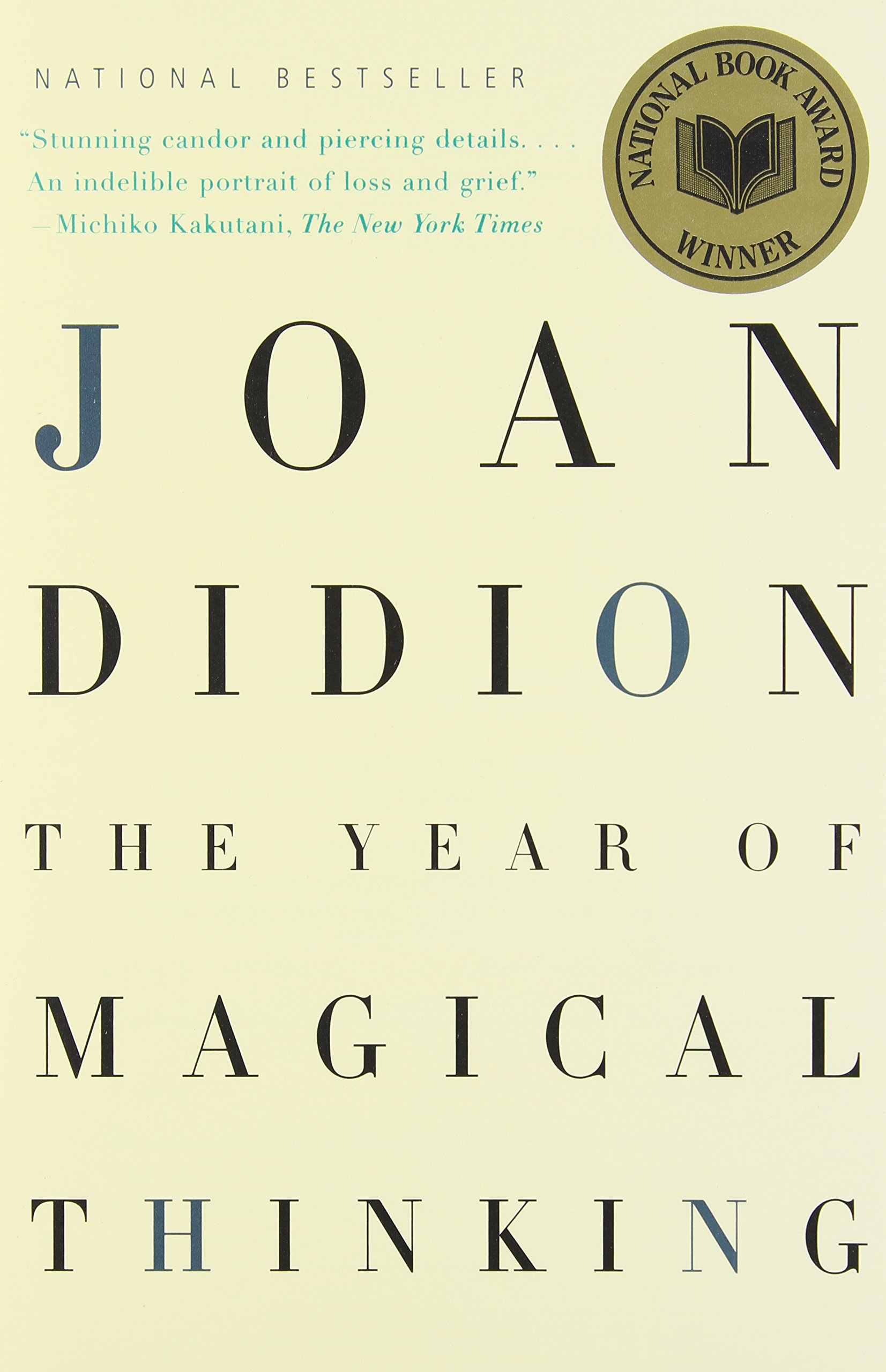 The Year of Magical Thinking  Joan Didion 
From one of America's iconic writers, a stunning book of electric honesty and passion. Joan Didion explores an intensely personal yet universal experience: a portrait of a marriage–and a life, in good times and bad–that will speak to anyone who has ever loved a husband or wife or child.
Several days before Christmas 2003, John Gregory Dunne and Joan Didion saw their only daughter, Quintana, fall ill with what seemed at first flu, then pneumonia, then complete septic shock. She was put into an induced coma and placed on life support. Days later–the night before New Year's Eve–the Dunnes were just sitting down to dinner after visiting the hospital when John Gregory Dunne suffered a massive and fatal coronary. In a second, this close, symbiotic partnership of forty years was over. Four weeks later, their daughter pulled through. Two months after that, arriving at LAX, she collapsed and underwent six hours of brain surgery at UCLA Medical Center to relieve a massive hematoma.  This powerful book is Didion's attempt to make sense of the "weeks and then months that cut loose any fixed idea I ever had about death, about illness . . . about marriage and children and memory . . . about the shallowness of sanity, about life itself.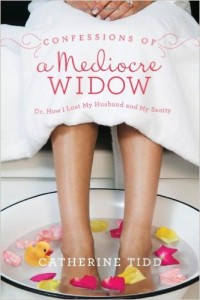 Confessions of a Mediocre Widow: Or, How I Lost My Husband and My Sanity  Catherine Tidd

I spent my 11th wedding anniversary planning my husband's funeral. If I could just figure out how to make that rhyme, it would be the beginning of a great country song.
Involuntarily single. That's the true story of where Catherine Tidd finds herself just three weeks after turning thirty-one. Widowed with three children under six years old, a rusty resume, no fix-it skills, and no clue how to live life as a widow, Catherine can't help but be a little exasperated with her dead husband for leaving her to deal with life on her own.
Catherine's now in charge of her life in a way she never wanted to be, in a way that would have most of us reeling and numb. But she soon realizes that when you call the shots, you can make pedicures one of the stages of grief–and that moving forward might be more fun in a new sports car. Her honest Confessions of a Mediocre Widow is a glimpse into the heartbreaking and sometimes humorous world of a young woman who learns that it is possible to find joy in an unexpected life.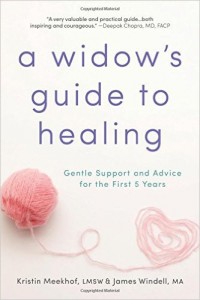 A Widow's Guide to Healing:  Gentle Support and Advice for the First 5 Years  Kristin Meekhof

An inspiring, accessible, and empowering guide for how to navigate the unique stresses and challenges of widowhood and create a hopeful future.  When Kristin Meekhof lost her husband to cancer, she discovered what all widows learn: the moment you lose your partner, you must make crucial decisions that will impact the rest of your life. But where do you begin? This inspiring book shows grieving widows what to expect and how to deal with the challenges of losing a life partner. From immediate issues like finances, estates and medical bills to long-term hurdles such as single parenthood, being a widow in the workplace and navigating social situations by yourself, this book guides widows through the tumultuous and painful first five years to a more hopeful future.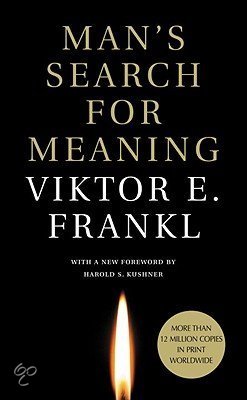 "Man's Search for Meaning"  Viktor E. Frankl
Psychiatrist Viktor Frankl's memoir has riveted generations of readers with its descriptions of life in Nazi death camps and its lessons for spiritual survival. Based on his own experience and the stories of his patients, Frankl argues that we cannot avoid suffering but we can choose how to cope with it, find meaning in it, and move forward with renewed purpose. At the heart of his theory, known as logotherapy, is a conviction that the primary human drive is not pleasure but the pursuit of what we find meaningful. Man's Search for Meaning has become one of the most influential books in America; it continues to inspire us all to find significance in the very act of living.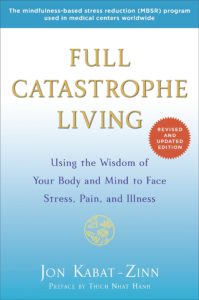 "Full Catastrophe Living:   Using the Wisdom of Your Body and Mind to Face Stress, Pain and Illness"    Jon Kabat-Zinn       
A practical, step-by-step guide to mindfulness meditation, based on the eight-week program of the Stress Reduction Clinic at the University of Massachusetts Medical Center, which over sixteen thousand medical patients have successfully completed in the past 25 years. This book describes a self-guided training program in mindfulness-based stress reduction (MBSR) to develop relaxation, calmness, and self-awareness, a reliable foundation for facing the "full catastrophe" of stress, pain, and illness, indeed of life itself. From the point of view of mindfulness, as long as you are breathing, there is more right with you than wrong with you, even if you are sick or troubled or in pain and things in your life feel dark and out of control. What is "right" with you holds the key for regaining control of your life and growing beyond your problems. Through the practice of mindfulness, you can learn to build on your fundamental strength and vitality and imagination, whether or not you know they exist when you start out.
Mindfulness CDs by Jon Kabat-Zinn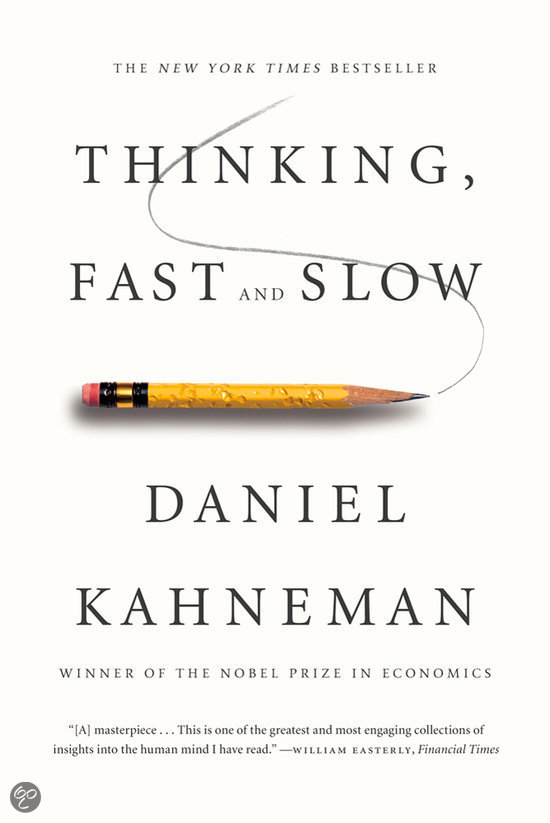 "Thinking, Fast and Slow"  Daniel Kahneman  
In the highly anticipated Thinking, Fast and Slow, Kahneman takes us on a groundbreaking tour of the mind and explains the two systems that drive the way we think. System 1 is fast, intuitive, and emotional; System 2 is slower, more deliberative, and more logical. Kahneman exposes the extraordinary capabilities—and also the faults and biases—of fast thinking, and reveals the pervasive influence of intuitive impressions on our thoughts and behavior. The impact of loss aversion and overconfidence on corporate strategies, the difficulties of predicting what will make us happy in the future, the challenges of properly framing risks at work and at home, the profound effect of cognitive biases on everything from playing the stock market to planning the next vacation—each of these can be understood only by knowing how the two systems work together to shape our judgments and decisions.
Engaging the reader in a lively conversation about how we think, Kahneman reveals where we can and cannot trust our intuitions and how we can tap into the benefits of slow thinking. He offers practical and enlightening insights into how choices are made in both our business and our personal lives—and how we can use different techniques to guard against the mental glitches that often get us into trouble. Thinking, Fast and Slow will transform the way you think about thinking.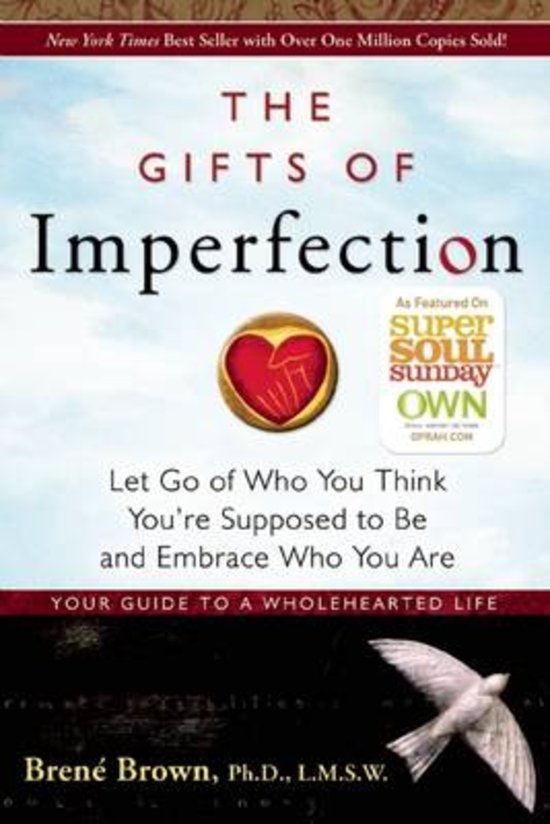 "The Gifts of Imperfection"  Brené Brown  
New York Times best-selling author and professor Brené Brown offers a powerful and inspiring book that explores how to cultivate the courage, compassion, and connection to embrace your imperfections and to recognize that you are enough.
Each day we face a barrage of images and messages from society and the media telling us who, what, and how we should be. We are led to believe that if we could only look perfect and lead perfect lives, we'd no longer feel inadequate. So most of us perform, please, and perfect, all the while thinking, What if I can't keep all of these balls in the air? Why isn't everyone else working harder and living up to my expectations? What will people think if I fail or give up? When can I stop proving myself?In The Gifts of Imperfection, Bren頂rown, PhD, a leading expert on shame, authenticity and belonging, shares what she's learned from a decade of research on the power of Wholehearted Living–a way of engaging with the world from a place of worthiness.In her ten guideposts, Brown engages our minds, hearts, and spirits as she explores how we can cultivate the courage, compassion, and connection to wake up in the morning and think, No matter what gets done and how much is left undone, I am enough, and to go to bed at night thinking, Yes, I am sometimes afraid, but I am also brave. And, yes, I am imperfect and vulnerable, but that doesn't change the truth that I am worthy of love and belonging.
"The Lonely City: Adventures in the Art of Being Alone" Olivia Laing
What does it mean to be lonely? How do we live, if we're not intimately engaged with another human being? How do we connect with other people? Does technology draw us closer together or trap us behind screens?
When Olivia Laing moved to New York City in her mid-thirties, she found herself inhabiting loneliness on a daily basis. Increasingly fascinated by this most shameful of experiences, she began to explore the lonely city by way of art. Moving fluidly between works and lives — from Edward Hopper's Nighthawksto Andy Warhol's Time Capsules, from Henry Darger's hoarding to the depredations of the AIDS crisis — Laing conducts an electric, dazzling investigation into what it means to be alone, illuminating not only the causes of loneliness but also how it might be resisted and redeemed.
¨The Conquest of Happiness¨  Bertrand Russell

The Conquest of Happiness is Bertrand Russell's recipe for good living. First published in 1930, it pre-dates the current obsession with self-help by decades. Leading the reader step by step through the causes of unhappiness and the personal choices, compromises and sacrifices that (may) lead to the final, affirmative conclusion of 'The Happy Man', this is popular philosophy, or even self-help, as it should be written.
Recommended Reading for Children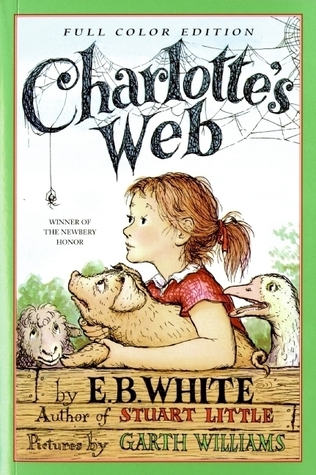 Charlotte's Web  E B White  
This beloved book by E. B. White, author of Stuart Little and The Trumpet of the Swan, is a classic of children's literature that is "just about perfect."  Some Pig. Humble. Radiant. These are the words in Charlotte's Web, high up in Zuckerman's barn. Charlotte's spiderweb tells of her feelings for a little pig named Wilbur, who simply wants a friend. They also express the love of a girl named Fern, who saved Wilbur's life when he was born the runt of his litter.
E. B. White's Newbery Honor Book is a tender novel of friendship, love, life, and death that will continue to be enjoyed by generations to come. This edition contains newly color illustrations by Garth Williams, the acclaimed illustrator of E. B. White's Stuart Little and Laura Ingalls Wilder's Little House series, among many other books.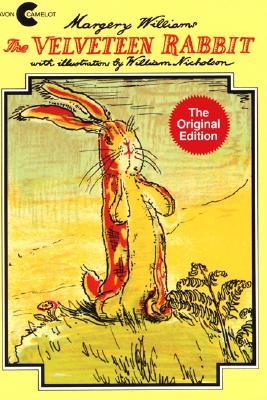 The Velveteen Rabbit   Margery Williams  
Nursery magic is very strange and wonderful, and only those playthings that are old and wise and experienced like the Skin Horse understand all about it.
Like the Skin Horse, Margery Williams understood how toys–and people–become real through the wisdom and experience of love. This reissue of a favorite classic, with the original story and illustrations as they first appeared in 1922, will work its magic for all who read it.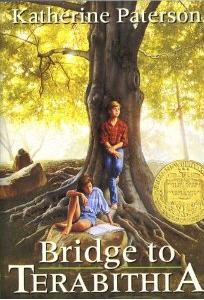 Bridge to Terabithia   Katherine Paterson
Jess Aarons' greatest ambition is to be the fastest runner in his grade. He's been practicing all summer and can't wait to see his classmates' faces when he beats them all. But on the first day of school, a new girl boldly crosses over to the boys' side and outruns everyone.
That's not a very promising beginning for a friendship, but Jess and Leslie Burke become inseparable. Together they create Terabithia, a magical kingdom in the woods where the two of them reign as king and queen, and their imaginations set the only limits.
Cry, Heart, But Never Break    Glenn Ringtved, Charlotte Pardi (Illustrations), Robert Moulthrop (Translation)
Aware their grandmother is gravely ill, four siblings make a pact to keep death from taking her away. But Death does arrive all the same, as it must. He comes gently, naturally. And he comes with enough time to share a story with the children that helps them to realize the value of loss to life and the importance of being able to say goodbye.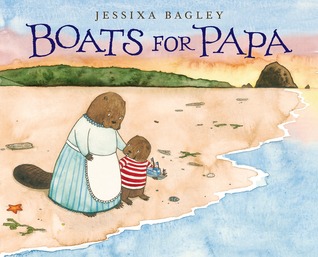 Boats for Papa   Jessixa Bagley 
Buckley and his Mama live in a cozy cabin by the ocean. He loves to carve boats out of the driftwood he finds on the beach nearby.  He makes big boats, long boats, short boats and tall boats, each one more beautiful than the last, and sends them out to sea. If they don't come back, he knows they've found their way to his papa, whom he misses very much. In this stunning debut, author/illustrator Jessixa Bagley explores the subtle and deep emotions associated with loss in a heartwarming tale that is sure to stay with the reader long after the book is closed.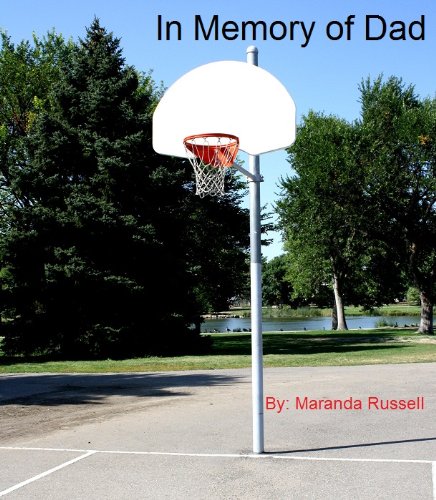 In Memory of Dad    Miranda Russell
Kaley Jergins loved her life. She had it all, the perfect family, good friends, and the talent and passion to be a great ball player. However, when tragedy strikes and the person she loves most of all is no longer there, will she ever be able to play again?
Told with warmth and feeling, this story comes from an author who knows what it is like to deal with loss at a young age. Nothing is ever the same after a tragic loss, but maybe life can go on. Includes an afterword by the author about grief and how to deal with it in a healthy way.
Useful access to free books and media:
Be Macmillan
Be Macmillan Website – Cancer Support
Free pdf provided courtesy of Be Macmillan: